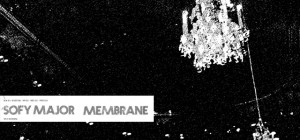 The 12″ vinyl split matching the noise hardcore local veterans MEMBRANE against the Clermont-Ferrand based modern sludge hardcore juggernaut SOFY MAJOR is out now!!
You can order the LP -that also includes a CD version of the record- sending an e-mail to impurefloyd@free.fr
This 41th release for Impure Muzik features 3 songs for Membrane and 4 for Sofy Major. You can give a listen to a stream of the full record here. 03.01.2012 update: the record is now sold-out in our shop!
Recorded, and mixed by Yann Morel, Sébastien Descamps at Studio Cube in July 2011.
Mastered by Nick Zampiello and Rob Gonnella at New Alliance East (Cambridge, USA).
Artwork par Julien Paget.
Our friends from Ocinatas Industries, Basement Apes Industries, Prototype Records Bigout Records are also part of the release.

SOFY MAJOR
1. Ruin it All
2. Doomsayer & Friends
3. Some more Pills
4. Once was a Warrior (fan my flame and I'll still be one)
Recorded by Laurent Saussol at Studio Palissy in July 2011.
Mixed by Andrew Schneider at Translator Audio.
MEMBRANE
1. Gruesome Tale
2. Small Fires
3. Lifeless Down on the Floor